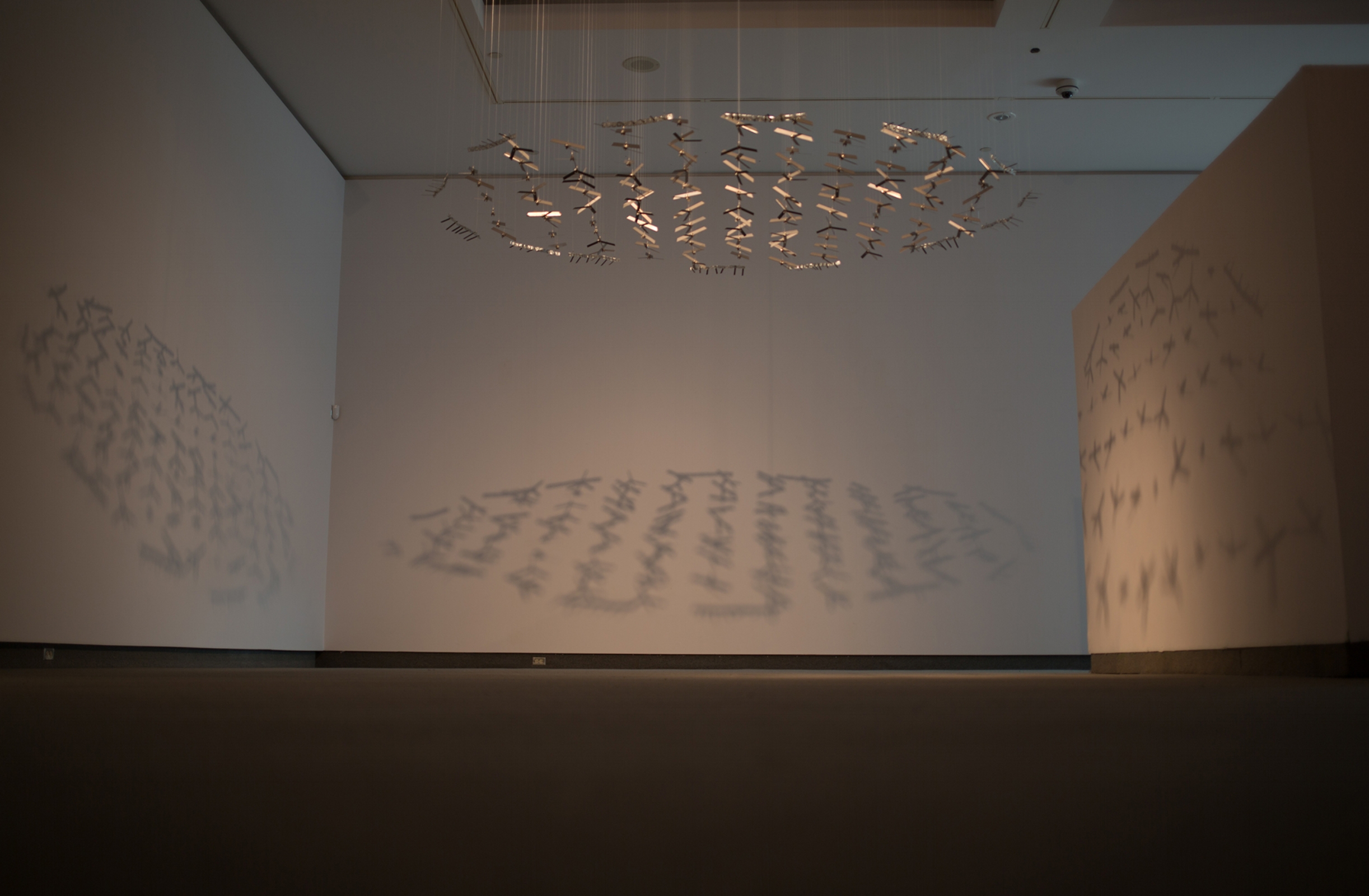 ArtAsiaPacific (Shelli Zhang):
Syed's work takes the form of an oval-shaped mobile made from box-cutter blades crafted into minimalist drones. Referencing the weapons that were used by the hijackers of the 2001 Twin Tower attacks in New York, while assuming the form of military technology used in retaliation by the United States, the material and shape of the work creates a dialogue of the recent conflict between the Middle East and the West. A perfect rendition of juxtaposed motifs, The Flying Rug of Drones hung precariously close above viewers—as a testament of regional conflict fuelled by fear and violence—and invited those who dared to walk under its looming shadows.
Catalogue: "Beyond Measure: Domesticating Distance" at Robert Maclaughlin Gallery, Oshawa, Ontario, (Ambereen Siddiqui):
A minimalist angular hexagonal grid pattern is projected as the shadow of a circular rug. Box cutter knife blades attached together in the shape of drones hang overhead to cast this shadow. Viewers are invited with a dare, to walk under the blades, to hold a filtered fear, to experience a simulated anxiety. "The Flying Rug of Drones" by Sydney based artist Abdullah M. I. Syed captures the fascination and fear of the East, referencing both the magical rug form Arabian Nights as well as the carpet bombings with drones that have become a hallmark of American intervention. Originally from Karachi, Pakistan Abdullah [is] witnessing Pakistan's mercurial bearings from afar. [His] response, like those of so many artists from the diaspora, can't escape the ripples the politics of their homeland creates. In using the symbol of the flying rug, Abdullah references the myths and legends created around covering distances instantly, while acknowledging that the drone has perhaps surpassed this fantasy, in being operated remotely.
MEDIA COVERAGE: